No rust. Complies with load
restraint guide performance
standards.
Home Page
Contact Us
Diesel Tanks For Sale
Water Cartage Tanks
DEF AdBlue tanks
Fire Fighting Tanks
Drainable Sump Tanks
Ball Baffle Stability
Rent- don't buy it
About Us
Privacy
Ball Baffles are not
recommended for
use with petrol.
Safe surge control
for many other liquids
Ball Baffle surge control- stop the slosh, improve handling and braking.
Save on maintanence costs- less wear & tear on brakes & suspension.
Rapid Spray ball baffles liquid surge protection. Just $8.60 each inc GST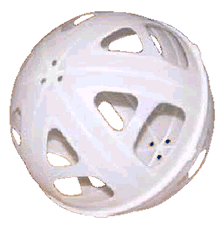 Reduces wear and tear on suspension, improves driving stability in rough terrain and emergency stops. Less driver fatigue. Suitable for all tanks including fibreglass, steel and aluminium. Food grade quality. Can be used for water, diesel and many other liquids & chemicals. Simple to install or retro-fit to your existing fleet.
Comes in two sizes 195mm and 355mm diameter
Large ball displaces 428ml & only weighs 386 grams
- recommended usage 1 ball per 40 litres
Small ball displaces 150ml & only weighs 120 grams
- recommended usage 1 ball per 7 litres
Supplied in two halves that clip together.
Use ball baffles wherever a part load will be carried. The tank needs to be completely filled with the ball baffles, which create a "honeycomb" of barriers inside your tank. Liquid surge and slosh is completely disrupted. To the driver it will feel like a solid or full load. If you are always driving with a full load, there is no benefit in having baffles. The balls will baffle your load in every direction, not just back and forward, or sideways. The volume of the ball baffles themselves, displaces just a bit over 1%, a very efficient system considering its effectiveness. This system is approved by LoadSafe.

Download the Ball baffle brochure
View a video of the vehicle handling with, and without, the ball baffle system :